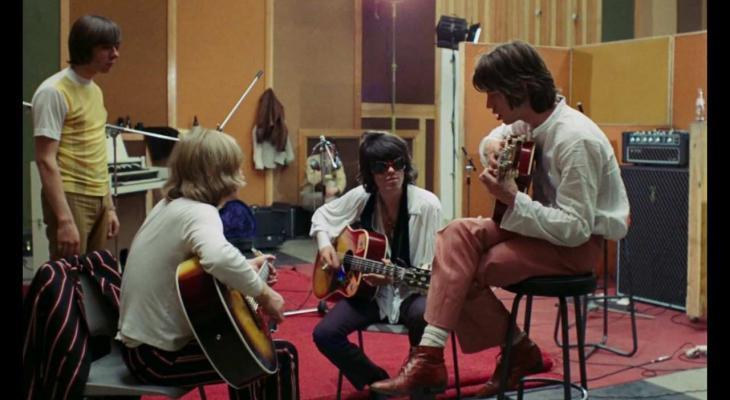 Nov
03
Sympathy for the Devil (One Plus One)
One of the landmark French New Wave films of the late '60s, directed by the celebrated Jean-Luc Godard, Sympathy for the Devil alternates between reflections on contemporary politics and social issues of the late 1960s as well as giving the audience an unprecedented view of The Rolling Stones creative process in the recording studio working on what would become one of the band's defining tracks.
The Rolling Stones original line-up of Mick Jagger, Keith Richards, Brian Jones, Charlie Watts and Bill Wyman were joined by Nicky Hopkins, Marianne Faithfull, Anita Pallenberg and James Fox in the landmark session that took place at Olympic Sound Studios in London in June 1968.
"This is one of those rare and unsettling examples of a rock film which has the all the immediacy of reportage from a distant war-zone," wrote Andrew Hussey in The Guardian. "It's all great stuff: a snapshot of a far-off, lost world where rock music is still a redemptive and revolutionary force."
The new edition of Godard's Sympathy for the Devil is a 4K restoration of the film from the original 35mm camera negative that was initially released in 1969.
Get more Jean-Luc Godard: New documentary Godard Cinema, paired with Godard's final work, the short film Phony Wars.
Tickets: $15 (Members from $10)
Hot Docs Ted Rogers Cinema
DETAILS
Hot Docs Ted Rogers Cinema
(416) 637-3123
506 Bloor St West
Toronto ON M5S 1Y3
Canada
DATE & TIME
-
[ Add to Calendar ]
2023-11-03 20:00:00
2023-11-11 02:30:00
Sympathy for the Devil (One Plus One)
<p>One of the landmark French New Wave films of the late '60s, directed by the celebrated Jean-Luc Godard, <em>Sympathy for the Devil</em> alternates between reflections on contemporary politics and social issues of the late 1960s as well as giving the audience an unprecedented view of The Rolling Stones creative process in the recording studio working on what would become one of the band's defining tracks.</p>
506 Bloor St West
Toronto ON M5S 1Y3
Canada
Bloor St. Culture Corridor
info@perceptible.com
America/Toronto
public
TICKETS
Member Discount
Under $30