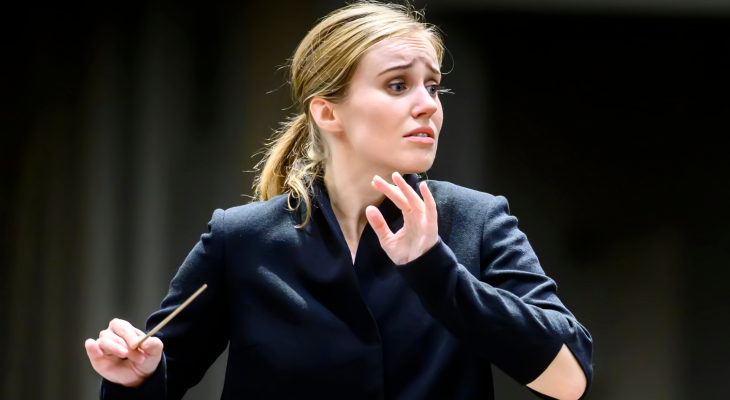 Nov
25
Staatskapelle Berlin conducted by Giedrė Šlekytė
With almost 450 years of tradition, Staatskapelle Berlin is one of the oldest orchestras in the world. Founded as a court orchestra by Prince-Elector Joachim II of Brandenburg in 1570, the ensemble expanded its activities with the founding of the Royal Court Opera in 1742 by Frederick the Great. Maestro Daniel Barenboim has served as the orchestra's general music director from the end of 1991 until January 2023 and, in 2000, the orchestra voted him as Conductor for Life.
Lithuanian conductor Giedrė Šlekytė, who recently performed a brilliant concert with the Staatskapelle in Berlin, will replace Maestro Barenboim. The orchestra is overjoyed to be making its Canadian debut with her. Internationally sought-after as a guest conductor, Šlekytė has already worked with the Munich Philharmonic, Vienna Symphony, Swedish Radio Orchestra, Frankfurt Symphony, Boulez-Ensemble Berlin, Camerata Salzburg, Staatskapelle Dresden, Konzerthausorchester Berlin, SWR Symphony Orchestra, Orchestre de chambre de Paris, Lithuanian National Symphony Orchestra, Mozarteum Orchestra Salzburg, Barcelona Symphony Orchestra, and Netherlands Philharmonic Orchestra. Following a brilliant debut with the Bruckner Orchester Linz in 2019, she was named their Principal Guest Conductor. Giedrė Šlekytė is a prize-winner of the International Malko Competition for Young Conductors in Copenhagen. In 2015, she was nominated for the Salzburg Festival Young Conductors Award and in 2018 as "Newcomer of the Year" at the International Opera Awards.
For the orchestra's first ever Toronto appearances, they will play all four of Johannes Brahms's symphonies over two concerts.
All-Johannes Brahms program:
Symphony No. 2 in D Major, op. 73
Symphony No. 1 in C Minor, op. 68
Opening night dinner and concert packages (very limited availability) are your best option to obtain premium seats for this performance. Proceeds from the dinner will support future programming in Koerner Hall.
For information about dinner packages and sponsorship opportunities, please call 416.408.2824 x 446.
DETAILS
(416) 408-0208
273 Bloor Street West
TELUS Centre for Performance and Learning
Toronto ON M5S 1W2
Canada
DATE & TIME
-
[ Add to Calendar ]
2023-11-26 01:00:00
2023-11-26 03:00:00
Staatskapelle Berlin conducted by Giedrė Šlekytė
<p>With almost 450 years of tradition, Staatskapelle Berlin is one of the oldest orchestras in the world. Founded as a court orchestra by Prince-Elector Joachim II of Brandenburg in 1570, the ensemble expanded its activities with the founding of the Royal Court Opera in 1742 by Frederick the Great. Maestro Daniel Barenboim has served as the orchestra's general music director from the end of 1991 until January 2023 and, in 2000, the orchestra voted him as Conductor for Life.</p>
273 Bloor Street West
TELUS Centre for Performance and Learning
Toronto ON M5S 1W2
Canada
Bloor St. Culture Corridor
info@perceptible.com
America/Toronto
public
TICKETS