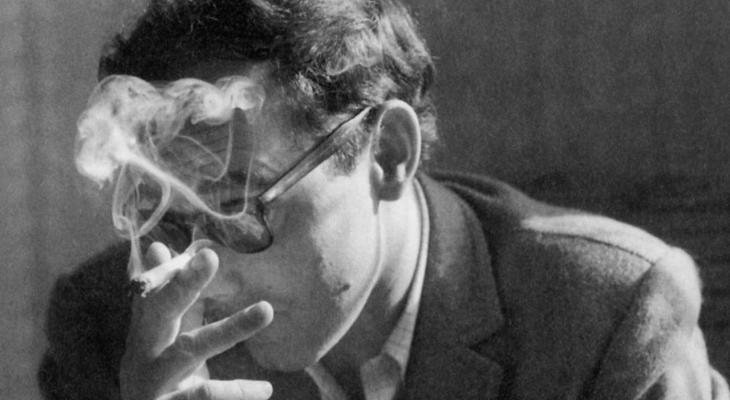 Nov
03
Godard Cinema preceded by the short film Phony Wars
Jean-Luc Godard is the embodiment of French art house cinema. He is its quintessence. With the release of Breathless in 1960, Godard established himself overnight as a rebellious director and symbol for the progressive and anti-war youth.
Sixty-two years and 140 films later, he is a public figure taught in school as much as a man shrouded in mystery. He is the cult filmmaker, the leader of the French New Wave, the political agitator, the revolutionary misanthrope, the film theorist and finally, the hermit of the Swiss mountains.
This film is an opportunity for us to look back at his career, his favourite subjects, and try to capture the essence of the revered director.
Screening with Godard's last film:
Trailer of a Film That Will Never Exist: Phony Wars | 2023 | 20 min
Godard's last film, a trailer for a movie that will never exist, shows a series of collages on what appears to be photographic paper, and is about Belgian surrealist/poet Charles Plisnier, who was expelled from the Communist party in 1937.
In French with English subtitles.
Tickets: $15 (Members from $10)
Also playing from Jean-Luc Godard: His seldom-seen iconic portrait of The Rolling Stones in 1968's Sympathy for the Devil.
Hot Docs Ted Rogers Cinema
DETAILS
Hot Docs Ted Rogers Cinema
(416) 637-3123
506 Bloor St West
Toronto ON M5S 1Y3
Canada
DATE & TIME
-
[ Add to Calendar ]
2023-11-03 17:00:00
2023-11-20 01:00:00
Godard Cinema preceded by the short film Phony Wars
<p>Jean-Luc Godard is the embodiment of French art house cinema. He is its quintessence. With the release of <em>Breathless</em> in 1960, Godard established himself overnight as a rebellious director and symbol for the progressive and anti-war youth.</p> <p>Sixty-two years and 140 films later, he is a public figure taught in school as much as a man shrouded in mystery. He is the cult filmmaker, the leader of the French New Wave, the political agitator, the revolutionary misanthrope, the film theorist and finally, the hermit of the Swiss mountains.</p>
506 Bloor St West
Toronto ON M5S 1Y3
Canada
Bloor St. Culture Corridor
info@perceptible.com
America/Toronto
public
TICKETS
Member Discount
Under $30