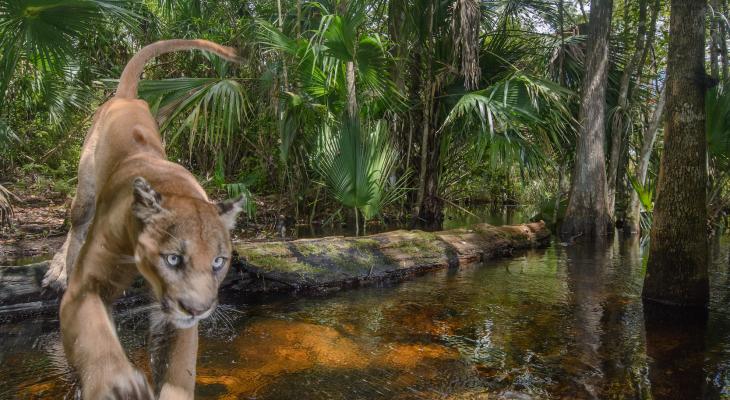 Nov
02
Doc Soup: Path of the Panther
Subscribers can view in-cinema on Wednesday, November 2. Subscribers can reserve their seats by contacting boxoffice@hotdocs.ca.
Subscribers can view online from Thursday, November 3 to Sunday, November 6. During this time, the film will be available on the watch.hotdocs.ca portal. Please sign in with your email and password.
Canadian Premiere
Drawn in by the haunting specter of the Florida panther, photographer Carlton Ward finds himself on the front lines of an accelerating battle between forces of renewal and destruction that have pushed the Everglades to the brink of ecological collapse. In a struggle resonating across the globe, the panther's habitat has become an island. Its lush territory transformed into subdivisions. A paradise—vanishing into thin air. Perched on the edge of extinction, the panther is an emblem of our once connected world. A vision of what could be again. Or else, a harbinger, of what could befall our planet, if the 'Path of the Panther' becomes a dead end.
Join director Eric Bendick for a live post-screening Q&A.
Hot Docs Ted Rogers Cinema
DETAILS
Hot Docs Ted Rogers Cinema
(416) 637-3123
506 Bloor St West
Toronto ON M5S 1Y3
Canada
DATE & TIME
-
[ Add to Calendar ]
2022-11-02 22:30:00
2022-11-03 00:30:00
Doc Soup: Path of the Panther
<p><strong>Subscribers can view in-cinema</strong> on Wednesday, November 2. <strong>Subscribers can reserve their seats by contacting </strong><a href="mailto:boxoffice@hotdocs.ca"><strong>boxoffice@hotdocs.ca</strong></a><strong>.</strong></p> <p><strong>Subscribers can view online</strong> from Thursday, November 3 to Sunday, November 6. During this time, the film will be available on the <a href="https://watch.hotdocs.ca/" target="_blank"><strong>watch.hotdocs.ca</strong></a> portal. Please sign in with your email and password.</p> <p><em>Canadian Premiere</em></p>
506 Bloor St West
Toronto ON M5S 1Y3
Canada
Bloor St. Culture Corridor
info@perceptible.com
America/Toronto
public
TICKETS
Member Discount
Under $30