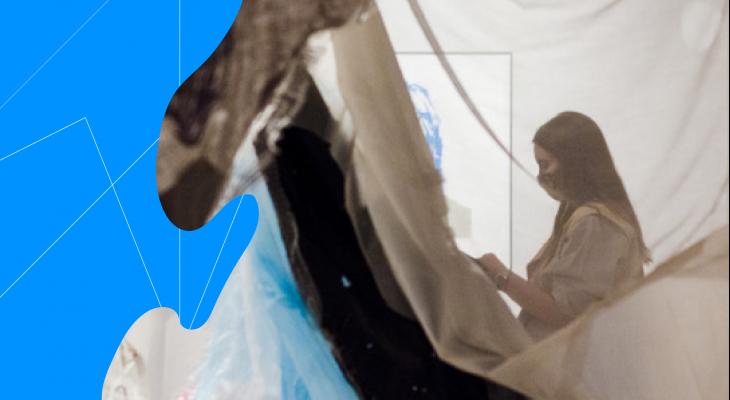 May
15
Virtual Artist Talk with Estonian Printmaker Britta Benno
Estonian printmaker Britta Benno visited Canada in 2021 and spent a month in Hamilton working at the Cotton Factory on several art pieces for her art exhibition that was held in Tartu in January of this year. EKKT (The Society of Estonian Artists in Toronto) and VEMU are co-hosting a virtual talk and pictorial presentation by Britta Benno of her art exhibition at Tartu Art House.
The talk will be on Sunday May 15th at 1 pm on Zoom: https://us06web.zoom.us/j/85724490399
Britta Benno (b 1984) is an artist working with drawing and printmaking. She has studied printmaking at the Estonian Academy of Arts where she is currently also finalising her doctoral project "Thinking in Layers, Imagining in Layers: Posthumanist Landscapes in the Extended Field of Drawing and Printmaking." She is an instructor in the printmaking workshop at the Academy, has taught various courses in the school, and has participated in artistic residencies in Canada, Austria and Iceland. 
DETAILS
DATE & TIME
-
[ Add to Calendar ]
2022-05-15 17:00:00
2022-05-15 18:00:00
Virtual Artist Talk with Estonian Printmaker Britta Benno
<p>Estonian printmaker Britta Benno visited Canada in 2021 and spent a month in Hamilton working at the Cotton Factory on several art pieces for her art exhibition that was held in Tartu in January of this year. <strong>EKKT (The Society of Estonian Artists in Toronto) and VEMU are co-hosting a virtual talk and pictorial presentation by Britta Benno of her art exhibition at Tartu Art House.</strong></p>
Bloor St. Culture Corridor
info@perceptible.com
America/Toronto
public