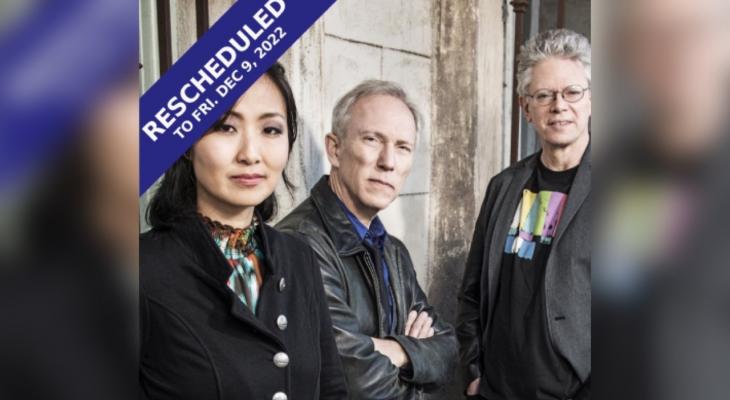 Jan
21
Kronos Quartet – Music for Change
Tanya Tagaq and Aruna Narayan make a special appearance with the Kronos Quartet as they bring us a program that explores how music can increase our understanding of our times and our connection to people around the world, through new works composed or inspired by Steve Reich, Tanya Tagaq, Jimi Hendrix, Mahalia Jackson, Billie Holiday, and more. 
Everything we do as citizens, as human beings, is a statement about how we want the world to be," says David Harrington, Kronos' artistic director, founder, and violinist. "Increasingly, I feel my role as musician is to point in constructive musical and cultural directions as we attempt to help repair the torn fabric of our society."
This Music for Change concert features new works composed by and performed with special guests Tanya Tagaq (vocals) and Aruna Narayan (sarangi), and also highlights the social, political, and cultural upheavals of civil rights movements through works such as Peace Be Till, Zachary J. Watkins's exploration of the moment just before Dr. Martin Luther King Jr. delivered his "I Have a Dream" speech, and Glorious Mahalia, Stacy Garrop's work honoring the life and times of gospel singer Mahalia Jackson. 
Program:
Steve Reich: "Pendulum Music" (Canadian premiere)
Traditional: "Star-Spangled Banner" (inspired by Jimi Hendrix; arr. Stephen Prutsman & Kronos Quartet) +
Antonio Haskell: "God Shall Wipe All Tears Away" (inspired by Mahalia Jackson; arr. Jacob Garchik) (Ontario premiere) +
Stacy Garrop: Glorious Mahalia (featuring the recorded voices of Mahalia Jackson and Studs Terkel) (Canadian premiere) *
Tanya Tagaq: "Colonizer" (Remix) (arr. Tanya Tagaq & Kronos Quartet) (world premiere) +
Aruna Narayan: "Mishra Pilu" (arr. Reena Esmail) (Canadian premiere) **
Komitas: "Groung" (arr. Mary Kouyoumdjian) (featuring the recorded voice of David Barsamian) +
Abel Meeropol: "Strange Fruit" (inspired by Billie Holiday; arr. Jacob Garchik) (Ontario premiere) +
Zachary James Watkins: "Peace Be Till" (featuring the recorded voice of Dr. Clarence B. Jones) (Canadian premiere) *        
* Written for Kronos
** Written for Fifty for the Future: The Kronos Learning Repertoire
+ Arranged for Kronos
This concert was originally scheduled for January 29, 2021.
21C Music Festival
FEARLESS MUSICIANS / FRESH NEW SOUNDS
#21Cmusic
CLICK HERE TO VIEW ALL 21C MUSIC FESTIVAL CONCERTS
DETAILS
(416) 408-0208
273 Bloor Street West
TELUS Centre for Performance and Learning
Toronto ON M5S 1W2
Canada
DATE & TIME
-
[ Add to Calendar ]
2022-01-22 01:00:00
2022-01-22 03:30:00
Kronos Quartet – Music for Change
<h4><em><strong>This concert has been rescheduled to <a href="https://www.rcmusic.com/events-and-performances/kronos-quartet-%E2%80%93-music-for-change-(2)" target="_blank">Friday, December 9, 2022</a>.</strong></em></h4> <p><a>Tanya Tagaq and Aruna Narayan make a special appearance with the Kronos Quartet as they bring us a program that explores how music can increase our understanding of our times and our connection to people around the world, through new works composed or inspired by Steve Reich, Tanya Tagaq, Jimi Hendrix, Mahalia Jackson, Billie Holiday, and more. </a></p> <p> </p>
273 Bloor Street West
TELUS Centre for Performance and Learning
Toronto ON M5S 1W2
Canada
Bloor St. Culture Corridor
info@perceptible.com
America/Toronto
public
TICKETS