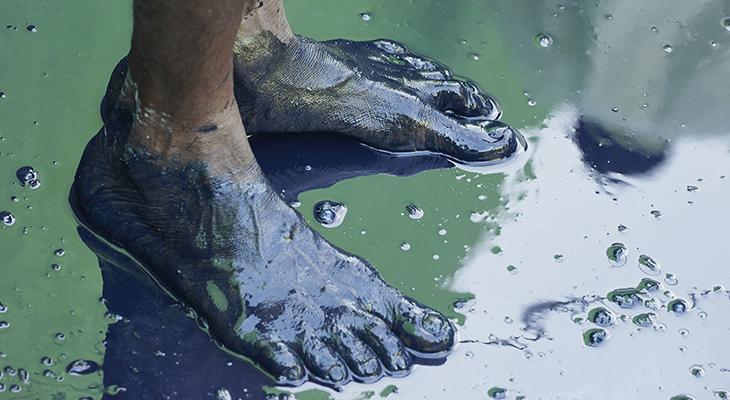 Feb
27
The Indigo Project
Directed by Elisa Citterio
Created by Alison Mackay in collaboration with Suba Sankaran (voice, percussion) & Trichy Sankaran (mridangam, kanjira, solkattu)
Cynthia Smithers, narrator & vocalist
Choirs from Earl Haig & Unionville Secondary Schools
Members of Tafelmusik Chamber Choir
Ivars Taurins, conductor
Raha Javanfar, projections designer
Glenn Davidson, lighting designer
A compelling musical journey exploring the vast social, cultural, and political implications of a powerful blue dye.
Alison Mackay's superb multimedia creations, blending music, visuals, narration, dance, and social commentary, are now famous the world over. In this latest offering, she traces the significance of the introduction into 17th-century Europe of indigofera tinctoria, the indigo dye that provided both the royal blue of the Bourbon courts and the colour of the cotton fabric worn by the common folk, known as denim. 
This fascinating social and musical journey travels from the courts of Europe to the lowest classes of European life, and extends into the exploitation of garment workers in the present day. Blending music both classical and popular, the program includes representations of the India where indigofera tinctoria was grown and the North American slave plantations where it was cultivated.
What's interesting about this concert:
The latest in Alison Mackay's unique cross-cultural collaborations for Tafelmusik, with their complex examination of the intersection of music and political and social history. 
Did you know: the word "jeans" comes from an old English version of "Genoa," the Italian port city where clothing was made from indigo-dyed cotton.
Experience the classical South Indian music of world-renowned master drummer Trichy Sankaran and his daughter, world/fusion vocalist Suba Sankaran (Autorickshaw).
Pre-concert Chat Join us one hour before each concert for a free pre-concert chat with program creator Alison Mackay.
Program
J.-B. Lully Suite from Psyché

Purandara Dasa Sri Gananada

Anonymous Nandhavanathil Oru Aandi/Aadu Pamb

Arunagirinathar Tiruppugazh: Kadimodi

J.-B. Lully Les bons vins sont en Bourgogne

J.-B Lully Les armes à la main

Handel Overture to Saul

Anonymous Ballow my babe

Handel Sinfonia: Arrival of the Queen of Sheba, from Solomon

Handel Chorus: Sing, o ye heav'ns, from Belshazzar

Ponniah Pillai Hemavathi Jatiswaram

Muthuswamy Dikshitar Santhatham Paahimaam

Stradella Sinfonia to La Susanna

Stradella Sinfonia in D Major

Cioni Lauda: Io mi sento liquefare

Corelli Concerto Grosso in D Major, op. 6, no. 1: Allegro

Fasch Sonata for 2 oboes, bassoon & continuo in B-flat Major: Andante

Purandara Dasa Kamalajadhala (arranged by Suba Sankaran)

Anonymous Chanson: La verdoyant' campagne

T.A.S. Mani/Suba Sankaran Chana
Concert run time: approximately 2 hours and 15 minutes, including a 20-minute intermission.
Photo: Feet of Blue, Tim McLaughlin — MAIWA
Tafelmusik Baroque Orchestra and Chamber Choir
DETAILS
Tafelmusik Baroque Orchestra and Chamber Choir
(416) 964-6337
427 Bloor Street West
Toronto ON M5S 1X7
Canada
DATE & TIME
-
[ Add to Calendar ]
2020-02-28 01:00:00
2020-02-28 03:00:00
The Indigo Project
<p>Directed by <strong>Elisa Citterio</strong></p> <p>Created by <strong>Alison Mackay</strong> in collaboration with <strong>Suba Sankaran</strong> (voice, percussion) &amp; <strong>Trichy Sankaran</strong> (mridangam, kanjira, solkattu)</p> <p><strong>Cynthia Smithers</strong>, narrator &amp; vocalist</p> <p>Choirs from <strong>Earl Haig</strong> &amp; <strong>Unionville Secondary Schools</strong></p> <p>Members of <strong>Tafelmusik Chamber Choir</strong></p> <p><strong>Ivars Taurins</strong>, conductor</p> <p><strong>Raha Javanfar</strong>, projections designer</p>
427 Bloor Street West
Toronto ON M5S 1X7
Canada
Bloor St. Culture Corridor
info@perceptible.com
America/Toronto
public
-
-
-
TICKETS