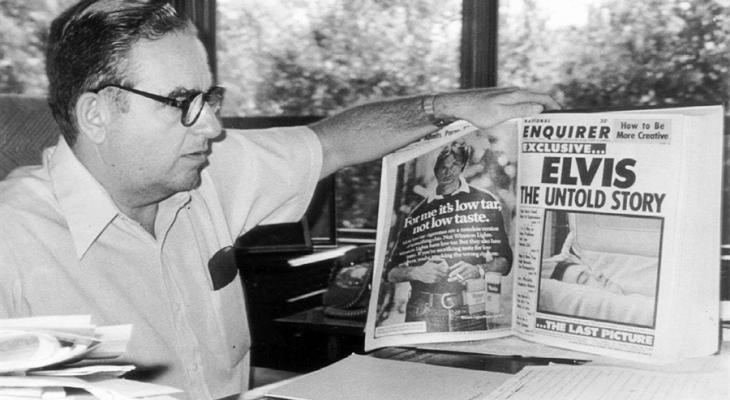 Dec
15
Best of 2019: Scandalous: The True Story of the National Enquire
Sex! Gossip! Scandal! For over 60 years, the National Enquirer has pumped out salacious, shocking stories, stretching the limits of journalism and blurring the lines between truth and fiction. In the age of "fake news", director Mark Landsman uncovers how America's most infamous tabloid became one of massive profit and influence, shaping the consciousness of a media-addicted culture obsessed with the rich and powerful. From Elvis' death to Monica Lewinsky and the O.J. Simpson trial, flip through the paper's most notorious coverage through rare archival footage and revelations as wild as Enquirer headlines themselves.
______________________________________________________
Best of 2019: Here's your last chance to see the 12 docs that kept us buzzing all year – we're capping off the year with trailblazing musicians, seedy politics, true crime, a trashy magazine, and more.
Hot Docs Ted Rogers Cinema
DETAILS
Hot Docs Ted Rogers Cinema
(416) 637-3123
506 Bloor St West
Toronto ON M5S 1Y3
Canada
DATE & TIME
-
[ Add to Calendar ]
2019-12-16 02:00:00
2019-12-20 01:30:00
Best of 2019: Scandalous: The True Story of the National Enquire
<p>Sex! Gossip! Scandal! For over 60 years, the National Enquirer has pumped out salacious, shocking stories, stretching the limits of journalism and blurring the lines between truth and fiction. In the age of "fake news", director Mark Landsman uncovers how America's most infamous tabloid became one of massive profit and influence, shaping the consciousness of a media-addicted culture obsessed with the rich and powerful. From Elvis' death to Monica Lewinsky and the O.J.</p>
506 Bloor St West
Toronto ON M5S 1Y3
Canada
Bloor St. Culture Corridor
info@perceptible.com
America/Toronto
public
TICKETS