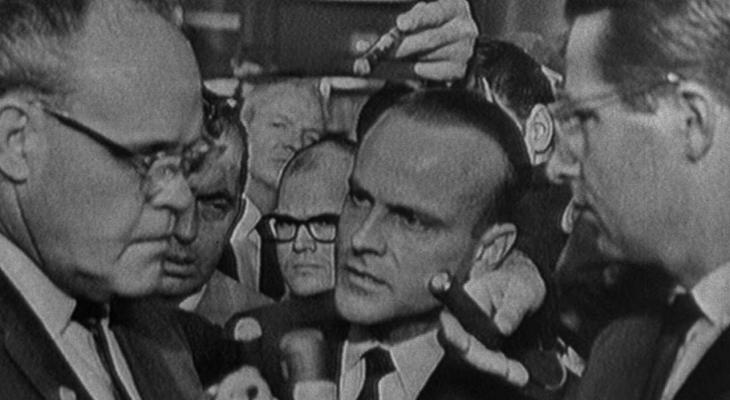 Nov
22
Rush to Judgment 4K restoration
In 1966, the documentary Rush to Judgment presented for the first time a simple, concise legal argument that the Warren Commission was hiding something, suggesting a broader conspiracy.Lee Harvey Oswald could not have single-handedly killed President John F. Kennedy.
Director Emile de Antonio and lawyer Mark Lane recorded unpolished, first-hand interviews from witnesses with direct proximity to the murders—but who were not given a platform in the official inquiry.
For a subject that has been rehashed and sensationalized so many times in the intervening 60 years, this documentary brings fresh clarity and presents a cool-headed argument that is untouched by time. Newly restored in 4K.
Tickets: $15 (Members from $10)
Also playing to mark the 60th anniversary of the assassination of US President John F. Kennedy: The landmark fiction film JFK.
Hot Docs Ted Rogers Cinema
DETAILS
Hot Docs Ted Rogers Cinema
(416) 637-3123
506 Bloor St West
Toronto ON M5S 1Y3
Canada
DATE & TIME
-
[ Add to Calendar ]
2023-11-22 21:00:00
2023-11-22 23:00:00
Rush to Judgment 4K restoration
<p>In 1966, the documentary <em>Rush to Judgment</em> presented for the first time a simple, concise legal argument that the Warren Commission was hiding something, suggesting a broader conspiracy.Lee Harvey Oswald could not have single-handedly killed President John F. Kennedy.</p> <p>Director Emile de Antonio and lawyer Mark Lane recorded unpolished, first-hand interviews from witnesses with direct proximity to the murders—but who were not given a platform in the official inquiry.</p>
506 Bloor St West
Toronto ON M5S 1Y3
Canada
Bloor St. Culture Corridor
info@perceptible.com
America/Toronto
public
TICKETS
Member Discount
Under $30