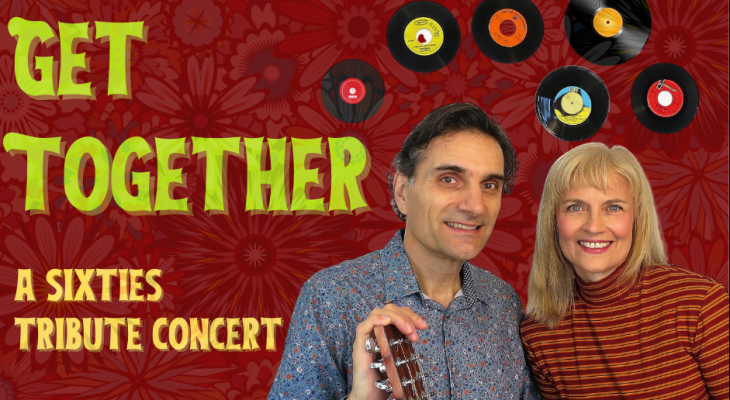 Sep
24
Get Together - Sixties Tribute Concert
This event will be on the MNjccOnDemand.ca Platform.  Signing up here will allow us to contact to remind you about the event and with instructions on how to access the on demand platform.  This is not a ticket to the event.
A tribute concert featuring popular folk singing duo Sue & Dwight
Beginning with the Folk Revival and ending with Woodstock, the 1960s was an era of rapid cultural change, highlighted by the Civil Rights Movement, Vietnam War, the birth of the Peace and Love generation, and the rise of some of the most influential musical artists in history.
Join us for a groovy time as we pay tribute to Bob Dylan, Joni Mitchell, Peter Paul & Mary, Simon & Garfunkel, Pete Seeger and Crosby, Stills & Nash, and sing along to these timeless songs of protest, peace and love, flower power and change. 
Born too late to be part of the 1960's folk revival, Winnipeg-born, Toronto-based singer songwriters Sue and Dwight embody the musical spirit of that time. Their songs about the prairies, life in the big city, and travels in East Africa impart human stories of peace, courage, and social justice in their own unique Canadiana style. Sue and Dwight have released 3 CD's of their own songs and are fixtures on the Toronto Roots music scene. During the current pandemic, they have been writing up a storm and bringing their music to audiences through their weekly Wednesday Living Room Live online show. Sue and Dwight have also developed a series of shows that celebrate folk music in a singalong format. This includes their most recent, 'Where Have All the Folk Songs Gone', an early 60's folk revival which just completed a 7- year run at the Free Times Cafe. For more information, please visit https://www.sueanddwight.com/
Sue and Dwight are always crowd favourites at the Miles Nadal JCC, having performed sold-out concerts 3 years in a row: Leonard Cohen & Bob Dylan: The Two Jewish Folk Poets; Legendary Ladies of Folk: Joan, Joni & Buffy! and The Greatest Hits of Peter, Paul and Mary and we are thrilled to welcome them to the virtual Miles Nadal JCC this fall!
DETAILS
DATE & TIME
-
[ Add to Calendar ]
2020-09-24 17:30:00
2020-09-24 19:00:00
Get Together - Sixties Tribute Concert
<p><strong>This event will be on the MNjccOnDemand.ca Platform.  Signing up here will allow us to contact to remind you about the event and with instructions on how to access the on demand platform.  This is not a ticket to the event.</strong></p> <p><strong>A tribute concert featuring popular folk singing duo Sue &amp; Dwight</strong></p>
Bloor St. Culture Corridor
info@perceptible.com
America/Toronto
public
TICKETS