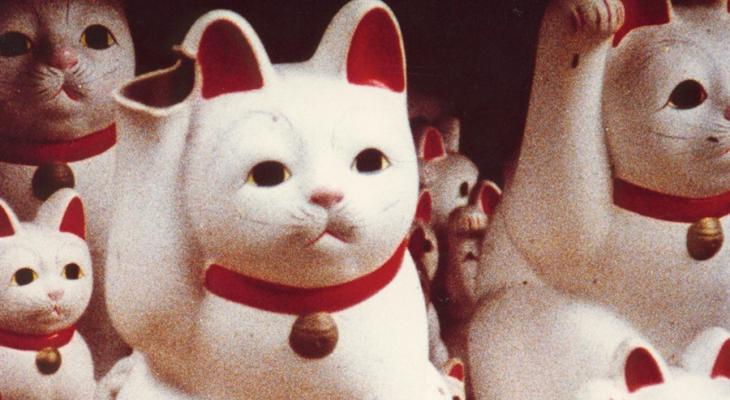 Apr
20
High Minded: Sans Soleil (1983)
"We rewrite memory much as history is rewritten." Lose yourself in the boundaries of memory, place and time in this 1983 masterpiece from French filmmaker, poet and multimedia artist, Chris Marker (La Jetée). A cat temple, horror movies, an animatronic JFK— stream-of-consciousness images and words from Guinea-Bissau, San Francisco, Paris, Iceland, and Japan bleed and swirl into a mind-bending technicolour hallucination. A new portrait of civilization is born. Part travelogue, part essay, part haunting sci-fi dreamscape, there's nothing quite like Sans Soleil in the history of cinema, especially on the big screen.
7:00 PM - Doors Open
8:00 PM - Screening
High Minded: It's legal now. A screening series featuring the biggest-thinking, most visually profound and psychedelic documentary cinema.
19+
Tickets: $17 (Members: $12, $10, Free)
Hot Docs Ted Rogers Cinema
DETAILS
Hot Docs Ted Rogers Cinema
(416) 637-3123
506 Bloor St West
Toronto ON M5S 1Y3
Canada
DATE & TIME
-
[ Add to Calendar ]
2020-04-21 00:00:00
2020-04-21 01:40:00
High Minded: Sans Soleil (1983)
<p>"We rewrite memory much as history is rewritten." Lose yourself in the boundaries of memory, place and time in this 1983 masterpiece from French filmmaker, poet and multimedia artist, Chris Marker (La Jetée). A cat temple, horror movies, an animatronic JFK— stream-of-consciousness images and words from Guinea-Bissau, San Francisco, Paris, Iceland, and Japan bleed and swirl into a mind-bending technicolour hallucination. A new portrait of civilization is born.</p>
506 Bloor St West
Toronto ON M5S 1Y3
Canada
Bloor St. Culture Corridor
info@perceptible.com
America/Toronto
public
TICKETS