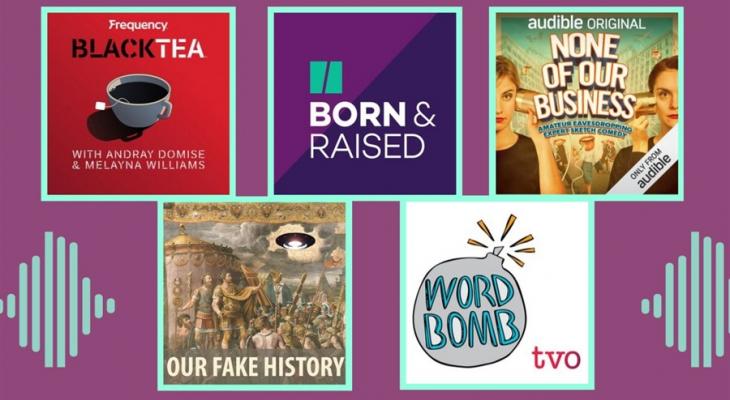 Nov
06
Sounds of the Six Variety Show // Hot Docs Podcast Festival 2019
Toronto is a city of breathtaking diversity, and equally breathtaking storytellers, and nothing reflects that cultural dynamism more than its booming podcast scene. In this specially curated showcase hosted by local broadcaster Errol Nazareth, five of the city's most talented shows will present exciting stories and conversations that speak to Toronto's evolving identity at a moment of rapid change. From the heartfelt love stories of first-generation youth to the sizzling hot takes of our sharpest social critics to the side-splitting wisecracks of our world-class comedians, "Sounds of the Six" is your chance to celebrate our homegrown voices and discover your next audio obsession.  
Tickets: $24 (Members: $21)
Featuring
Black Tea, Writers Andray Domise and Melayna Williams are here to bring tough but important Black community conversations out in the open, and to have some laughs while doing so.
Word Bomb, Unpacking one explosive word per week, hosts Pippa Johnstone and Karina Palmitesta talk to experts and dive deep into lived experiences to share stories the dictionary doesn't tell you.
None of our Business, A new Audible production based on the weird and wonderful things you've overheard while eavesdropping and hosted by comedians Gwynne Phillips and Briana Templeton AKA award-winning sketch comedy duo The Templeton Philharmonic.
Our Fake History, A podcast about the myths people think are history and the history that might be hidden in myths. Host Sebastian Major explores those tall tales and tries to figure out what's fact, what's fiction, and what is such a good story that it simply must be told.
Born & Raised, "Where are you really from?" is a loaded question for children of immigrants. Part reflection, part storytelling, this acclaimed podcast from Huffington Post Canada digs into our experiences and connections with identity, family, and culture.
Hot Docs Ted Rogers Cinema
DETAILS
Hot Docs Ted Rogers Cinema
(416) 637-3123
506 Bloor St West
Toronto ON M5S 1Y3
Canada
DATE & TIME
-
[ Add to Calendar ]
2019-11-07 02:15:00
2019-11-07 03:45:00
Sounds of the Six Variety Show // Hot Docs Podcast Festival 2019
<p>Toronto is a city of breathtaking diversity, and equally breathtaking storytellers, and nothing reflects that cultural dynamism more than its booming podcast scene. In this specially curated showcase hosted by local broadcaster Errol Nazareth, five of the city's most talented shows will present exciting stories and conversations that speak to Toronto's evolving identity at a moment of rapid change.</p>
506 Bloor St West
Toronto ON M5S 1Y3
Canada
Bloor St. Culture Corridor
info@perceptible.com
America/Toronto
public
TICKETS