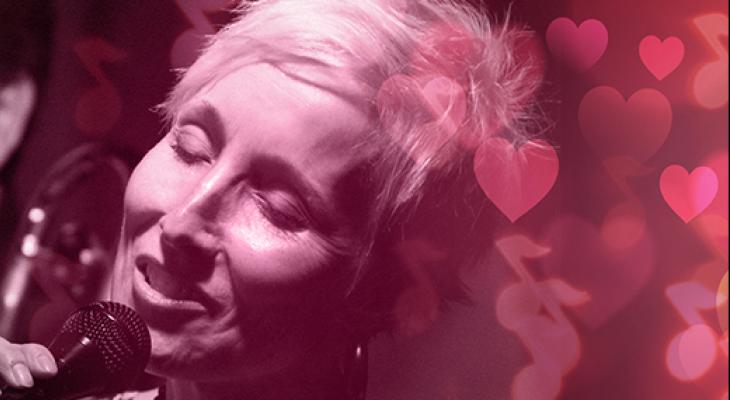 Feb
14
Can't Give You Anything But Love
Valentine's Day Jazz Concert featuring Jordan Klapman and The Tanya Wills Quartet.
Location: Spadina Theatre, Alliance Francaise Toronto, 24 Spadina Road
Celebrate the romance of Valentine's Day with a live performance of timeless love songs, jazz standards and romantic ballads. This quartet features master musicians Jordan Klapman (piano), Bill Bridges (guitar), Ron Johnston (bass) and the sensual sound of jazz vocalist Tanya Wills. 
Admission: $10
Tanya Wills, Jazz Vocalist
As the granddaughter of two opera singers, Tanya knew from the very beginning that she would be an artist. Tanya graduated from Theatre School where she developed her skills as a 'triple threat' with a major focus on voice. She went on to study voice classically in Toronto and developed her distinct mezzo sound and style. Her rich and expressive voice became her hallmark as she went on to work with many Swing and Big Bands east of and in Toronto. Known not only for her dynamic performance but also as a great vocal technician, Tanya has also had the opportunity to play many of the favourite lead roles of so many classical musicals – Eva Peron (Evita), Peter Pan, Adelaide (Guys and Dolls).Tanya is also at the front of the Wintergarten Orchestra (Toronto) as one of two vocalists. Singing in English, German and French, Tanya delivers exciting Cabaret pieces from the 20's and 30's with a richness in her storytelling that sets her apart.
Bill Bridges, Guitar
Bill began playing the guitar when he was about 13 or so and celebrated his 15th birthday while on the road with a band. Since then he has toured the world playing and writing all styles of music from jazz to classical and is one of the most sought-after arrangers of symphonic music in Canada. He has worked with Howard Cable, Guido Basso, Hagood Hardy, Peter Desotto, Red Norvo, Art Van Damme, Phil Nimmons, Peter Appleyard, Lenny Solomon, New Music Concerts, and many more. He has recorded jingles, CD's, movie scores, tv and radio broadcasts, and has worked in orchestras playing for theatre shows and for such artists as Ella Fitzgerald, Peggy Lee, Petula Clarke, Eartha Kitt, Vic Damone, and Tony Bennett, to name a few. For a number of years he has been a member of The Shaw Festival Orchestra and often travels to Ottawa to play with The National Arts Centre Orchestra. Recently he co-produced Tom Leadbeater's latest cd and played in the pit (as well as an on-stage accompanying flamenco dancer Fernando Mira) for Strictly Ballroom.
Jordan Klapman, Piano
Jordan Klapman is a pianist, accompanist, bandleader, music director, silent film accompanist, and popular music history lecturer. He performs mainstream and traditional jazz, The Great American Songbook, as well as world and Jewish music at festivals, clubs, concert halls, theatres, and special events of all kinds. He's appeared at Roy Thomson Hall, Koerner Hall for IdeaCITY, on CBC Radio and television, Birdland's Cast Party in New York City, on CITY TV, and on JazzFM as a show co-host with the late Jeff Healey. Jordan also composes and plays piano for The Wintergarten Orchestra. A very active silent film accompanist, Jordan frequently composes and performs his own retro-style scores for the classic dramas and comedies of the silent era. His CV includes dozens of performances at venues including The TIFF LightBox, Silent Sundays at The Revue Theatre, The Toronto Silent Film Festival, The University of Toronto Media Commons, The Vintage Film Festival, and The Toronto Jewish Film Festival. For over 40 years, Jordan has specialized in 20th-century popular music— including traditional Dixieland, Jazz Age dance music, European cabaret, Tin Pan Alley, klezmer— and his original retro compositions. 
Ron Johnston, Bass
Classically trained, Ron's first love has always been Jazz. He has been professionally performing and recording, (locally and abroad), with a number of different groups since 1971. Ron has also appeared in numerous TV shows and Films as a musician extra, including being the main band member in the Oscar-winning film "Chicago". He was one of the original members of the well known Hard Bop band "Kollage", where he performed and recorded with the group for their first nine years. Currently, Ron can be seen working with Juno award winner Bob DeAngelis. In addition to teaching privately, Ron is the bass instructor at the acclaimed St. Michael's College School in Toronto.
Miles Nadal Jewish Community Centre
DETAILS
Miles Nadal Jewish Community Centre
(416) 924-6211
750 Spadina Ave
Toronto ON M5S 2J2
Canada
DATE & TIME
-
[ Add to Calendar ]
2019-02-14 18:00:00
2019-02-14 19:30:00
Can't Give You Anything But Love
<p><strong>Valentine's Day Jazz Concert featuring Jordan Klapman and The Tanya Wills Quartet.</strong></p> <p><strong>Location: Spadina Theatre, Alliance Francaise Toronto, 24 Spadina Road</strong></p> <p>Celebrate the romance of Valentine's Day with a live performance of timeless love songs, jazz standards and romantic ballads. This quartet features master musicians Jordan Klapman (piano), Bill Bridges (guitar), Ron Johnston (bass) and the sensual sound of jazz vocalist Tanya Wills. </p> <p> </p> <p><strong>Admission: $10</strong></p> <p> </p>
750 Spadina Ave
Toronto ON M5S 2J2
Canada
Bloor St. Culture Corridor
info@perceptible.com
America/Toronto
public
TICKETS