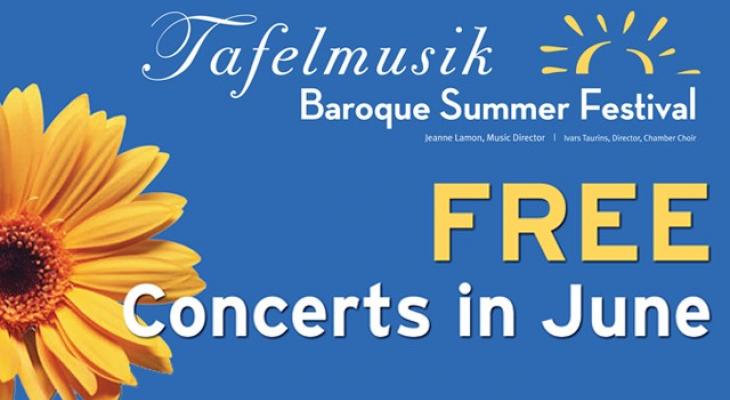 Jun
05
Delightfully Baroque
The first of four FREE concerts in June, part of the Tafelmusik Baroque Summer Festival   Delightfully Baroque A free concert of music performed by the renowned Tafelmusik Baroque Orchestra and Chamber Choir. Directed by Jeanne Lamon & Ivars Taurins Featuring soloists Ann Monoyios, soprano & Peter Harvey, baritone.
Friday, June 5, 8:00 pm Trinity-St. Paul's Centre: Jeanne Lamon Hall 427 Bloor Street West, Toronto
For full festival details click here.
Tafelmusik Baroque Orchestra and Chamber Choir
DETAILS
Tafelmusik Baroque Orchestra and Chamber Choir
(416) 964-6337
427 Bloor Street West
Toronto ON M5S 1X7
Canada
DATE & TIME
[ Add to Calendar ]
2015-06-05 00:00:00
2015-06-05 00:00:00
Delightfully Baroque
<p>The first of four <strong>FREE </strong>concerts in June, part of the <a href="http://www.tafelmusik.org/concert-calendar/concert/tafelmusik-baroque-summer-festival-2015">Tafelmusik Baroque Summer Festival</a>   <strong>Delightfully Baroque</strong> A free concert of music performed by the<strong> renowned Tafelmusik Baroque Orchestra and Chamber Choir</strong>. Directed by Jeanne Lamon &amp; Ivars Taurins Featuring soloists Ann Monoyios, soprano &amp; Peter Harvey, baritone.</p>
427 Bloor Street West
Toronto ON M5S 1X7
Canada
Bloor St. Culture Corridor
info@perceptible.com
America/Toronto
public
TICKETS