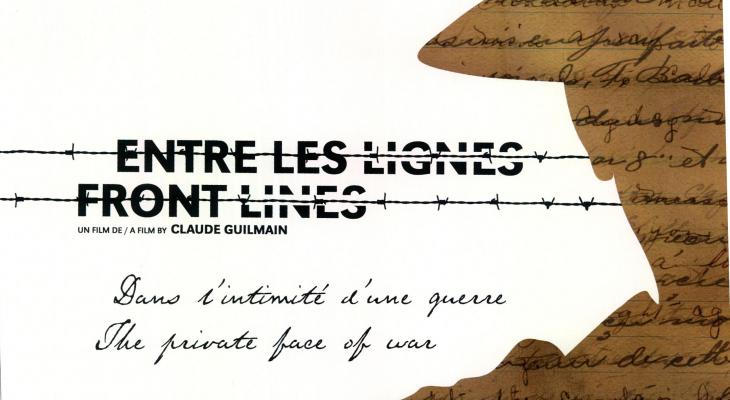 Nov
11
The Soldiers' Letters
7pm
Front lines is a tribute to the combatants in the First World War. This film traces the conflict through the war diary and private letters of five Canadian soldiers and a nurse. The film mingles war footage, historical photos and readings of excerpts from the diary and letters. The directorial talent of Claude Guilmain breathes life into these 90-year-old documents and accompanying archival images so that we experience the human face and heart of the conflict.
After the screening of Claude Guilmain's documentary, the students of the Lycée Français de Toronto will read some soldiers' harrowing letters.
Between 1914 and 1918, France mobilizes nearly 8 millions men. In the trenches, soldiers write. A lot. Letters to their families. Journals, or poems. And sometimes, stories. Most of the writers are also at war, and they want to share through their art the suffering and reality of the conflict, away from propaganda, the brainwashing of the front lines. For some, such as Henri Barbusse or Roland Dorgelès, it is even a moral mission. On the crest of its popularity, this literature from the trenches wins, at that time, all the Goncourt awards.
Entrance: Pay what you can - No registration: on the first-come, first-served basis
Alliance Française de Toronto
DETAILS
Alliance Française de Toronto
(416) 922-2014
24 Spadina Road
Toronto ON M5R 2S7
Canada
DATE & TIME
[ Add to Calendar ]
2014-11-11 00:00:00
2014-11-11 00:00:00
The Soldiers' Letters
<p><strong>7pm</strong></p> <p>Front lines is a tribute to the combatants in the First World War. This film traces the conflict through the war diary and private letters of five Canadian soldiers and a nurse. The film mingles war footage, historical photos and readings of excerpts from the diary and letters. The directorial talent of Claude Guilmain breathes life into these 90-year-old documents and accompanying archival images so that we experience the human face and heart of the conflict.</p>
24 Spadina Road
Toronto ON M5R 2S7
Canada
Bloor St. Culture Corridor
info@perceptible.com
America/Toronto
public
TICKETS