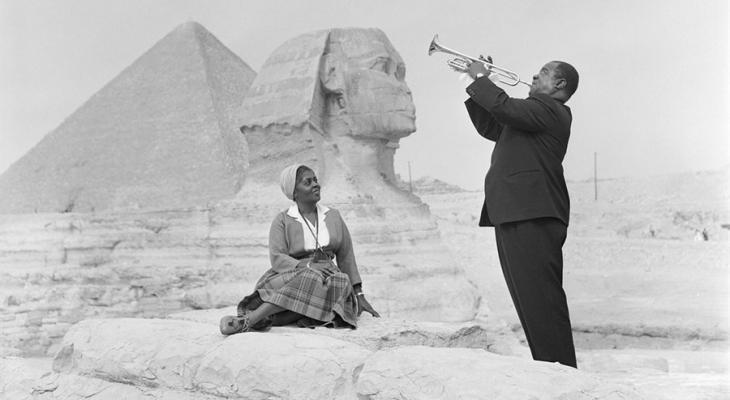 Aug
20
Doc Soup Friends & Family Screening: The Jazz Ambassadors
As a thank you to our Doc Soup subscribers, Hot Docs is kicking off the season early with a special friends and family screening. Not a subscriber yet? Subscribe today to get access to this screening for you and your guests.
In 1955, as the Soviet Union's pervasive propaganda about racism in the United States spread, the U.S. State Department asked its greatest jazz artists—including Dizzy Gillespie, Louis Armstrong, Duke Ellington, and their band members—to travel the world as cultural ambassadors. But the unrest back home forced these musicians to face a painful moral dilemma: how could they promote the image of tolerance when their country still practiced Jim Crow segregation and racial equality remained an unrealized dream? Narrated by Leslie Odom Jr. (Hamilton), The Jazz Ambassadors is a remarkable story of music, diplomacy, and race that reveals how America unwittingly gave the burgeoning civil rights movement a major voice on the world stage.
Includes post-screening Skype Q&A with director Hugo Berkeley, moderated by broadcaster Garvia Bailey.
Hot Docs Ted Rogers Cinema
DETAILS
Hot Docs Ted Rogers Cinema
(416) 637-3123
506 Bloor St West
Toronto ON M5S 1Y3
Canada
DATE & TIME
-
[ Add to Calendar ]
2018-08-20 22:30:00
2018-08-21 00:35:00
Doc Soup Friends & Family Screening: The Jazz Ambassadors
<p><strong>As a thank you to our Doc Soup subscribers, Hot Docs is kicking off the season early with a special friends and family screening. Not a subscriber yet? <a href="https://hotdocscinema.ca/c/doc-soup?_ga=2.93794461.1814282181.1534167297-1668066165.1501773751&amp;utm_source=BCC&amp;utm_medium=Listings&amp;utm_campaign=DocSoup&amp;utm_content=DocSoupSubscribe">Subscribe today</a> to get access to this screening for you and your guests.</strong></p>
506 Bloor St West
Toronto ON M5S 1Y3
Canada
Bloor St. Culture Corridor
info@perceptible.com
America/Toronto
public