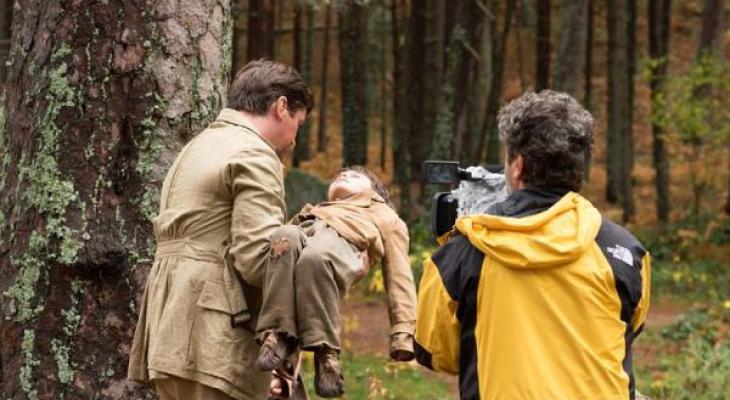 Apr
22
Free Screening & Panel: Intent to Destroy - feat. Atom Egoyan
On Armenian Genocide Commemoration Day, join us for a free screening and panel discussion on achieving justice in the aftermath of atrocity. In the Hot Docs hit Intent to Destroy, documentary legend Joe Berlinger immerses himself on the film set of Terry George's epic The Promise (starring Christian Bale), the first mainstream film about the 1915 Armenian Genocide. Using this behind the scenes experience to explore the history and reality of the massacre, Berlinger exposes the tangled web of responsibility that has driven a century of denial by the Turkish government and its allies. Unflinching and timely, this film-within-a-film lays bare the plight of a people, both past and present, still seeking acknowledgement.
Presented by the Mosaic Institute and The Zoryan Institute
Award-winning filmmaker Atom Egoyan, Kizito Musabimana and Dr. Jeremy Maron will participate in a post-screening panel on "Who Defines Justice?" moderated by Vahan Kololian.
Tickets: Member tickets are available for pick up at the box office and online. Tickets for non-members available at the cinema box office only. Maximum of two tickets per person.
Hot Docs Ted Rogers Cinema
DETAILS
Hot Docs Ted Rogers Cinema
(416) 637-3123
506 Bloor St West
Toronto ON M5S 1Y3
Canada
DATE & TIME
[ Add to Calendar ]
2018-04-22 23:00:00
2018-04-22 23:00:00
Free Screening & Panel: Intent to Destroy - feat. Atom Egoyan
<p>On Armenian Genocide Commemoration Day, join us for a free screening and panel discussion on achieving justice in the aftermath of atrocity. In the Hot Docs hit Intent to Destroy, documentary legend Joe Berlinger immerses himself on the film set of Terry George's epic The Promise (starring Christian Bale), the first mainstream film about the 1915 Armenian Genocide. Using this behind the scenes experience to explore the history and reality of the massacre, Berlinger exposes the tangled web of responsibility that has driven a century of denial by the Turkish government and its allies.</p>
506 Bloor St West
Toronto ON M5S 1Y3
Canada
Bloor St. Culture Corridor
info@perceptible.com
America/Toronto
public
TICKETS