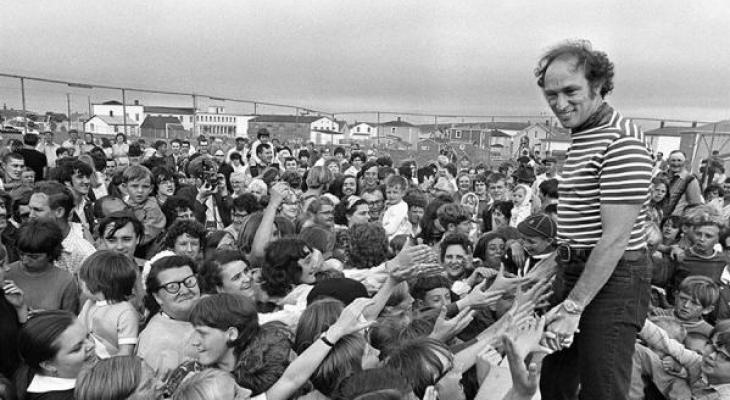 May
24
Curious Minds: Trudeaumania - Pierre Trudeau and his Century
Fifty years ago this spring, Pierre Trudeau became Prime Minister of Canada and Trudeaumania swept the nation. Representing a sharp break with Canada's political past, Trudeau reflected the unconventionality of the Sixties and the convergence of celebrity and politics. Trudeau's record, however, reveals the political substance beneath his public persona. Over his remarkable fifteen and a half years in office, he led Canada through its greatest constitutional crisis, weathered a period of exceptional social and economic change and advocated strongly for government solutions to pressing national concerns.
Led by John English, an award-winning historian and former federal MP, this course will course will take you on an unforgettable journey through the life and times of a Canadian icon. We'll relive the political excitement of the 1960s and 70s while exploring how and why Trudeau's image and legacy continue to endure.
The Director of the Bill Graham Centre for Contemporary International History at Trinity College, John English is the author of the two-volume biography Just Watch Me: The Life of Pierre Elliott Trudeau, which was chosen as one of the ten best biographies of the decade in 2010 by Indigo and one of the twenty-five most influential Canadian books by the Literary Review of Canadain 2017.
Six-week course: $63 (Members: $54, $42, Free) Single class: $21 (Members: $17, $14, Free)
Sponsored by Hollywood Suite
Hot Docs Ted Rogers Cinema
DETAILS
Hot Docs Ted Rogers Cinema
(416) 637-3123
506 Bloor St West
Toronto ON M5S 1Y3
Canada
DATE & TIME
-
[ Add to Calendar ]
2018-05-24 14:00:00
2018-06-28 14:00:00
Curious Minds: Trudeaumania - Pierre Trudeau and his Century
<p>Fifty years ago this spring, Pierre Trudeau became Prime Minister of Canada and Trudeaumania swept the nation. Representing a sharp break with Canada's political past, Trudeau reflected the unconventionality of the Sixties and the convergence of celebrity and politics. Trudeau's record, however, reveals the political substance beneath his public persona.</p>
506 Bloor St West
Toronto ON M5S 1Y3
Canada
Bloor St. Culture Corridor
info@perceptible.com
America/Toronto
public
TICKETS