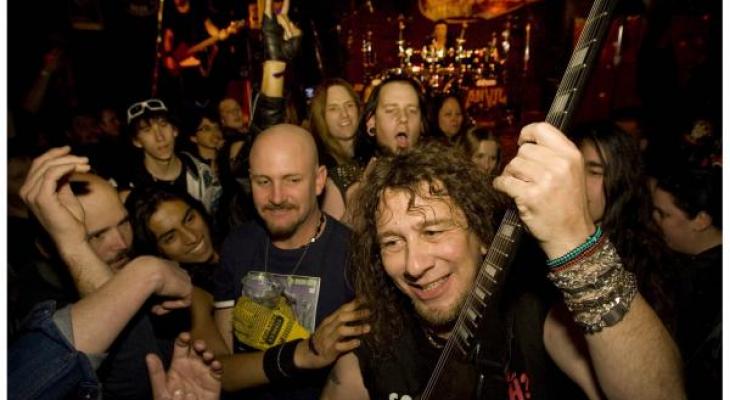 Apr
23
Epilogues: Anvil! The Story of Anvil
Hot Docs Epilogues: For our 25th anniversary, we're bringing back some of our all time favourite Festival films and checking in with their unforgettable subjects to learn how the films have impacted their lives.
When unsung heroes of Canadian heavy metal Steve "Lips" Ludlow and Robb Reiner invited a documentary crew to capture their band's disastrous 30th anniversary revival tour, they couldn't have predicted what would come next. One of the most memorable opening night films in Hot Docs' history, Anvil! not only attracted fans that had been following the duo since the 70s but created a new generation of devotees that revitalized their career. A decade later, Anvil are still touring the world, fulfilling their childhood dreams of being rockstars. Join us for a special 10th anniversary screening of this perennially popular rockumentary.
Steve "Lips" Anvil and Robb Reiner will join us for a live post-screening discussion.
Hot Docs Ted Rogers Cinema
DETAILS
Hot Docs Ted Rogers Cinema
(416) 637-3123
506 Bloor St West
Toronto ON M5S 1Y3
Canada
DATE & TIME
[ Add to Calendar ]
2018-04-23 22:30:00
2018-04-23 22:30:00
Epilogues: Anvil! The Story of Anvil
<p>Hot Docs Epilogues: For our 25th anniversary, we're bringing back some of our all time favourite Festival films and checking in with their unforgettable subjects to learn how the films have impacted their lives.</p>
506 Bloor St West
Toronto ON M5S 1Y3
Canada
Bloor St. Culture Corridor
info@perceptible.com
America/Toronto
public
TICKETS