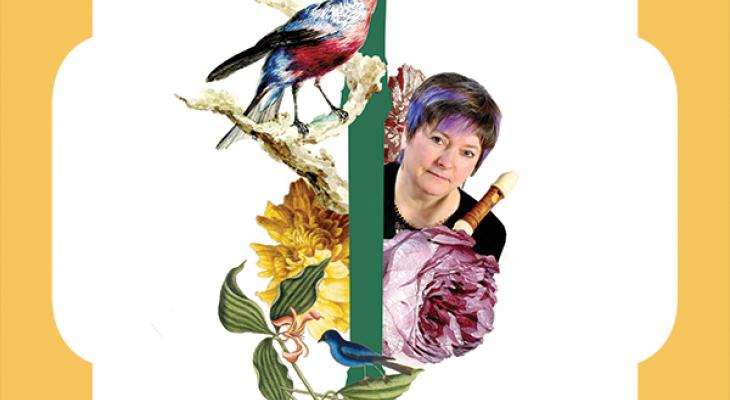 Feb
09
A Recorder Romp
Explode your preconceptions of the recorder with this concert of delightful and daring concertos.
If you thought the recorder was just an instrument for school concerts, think again. Virtuoso performer Alison Melville joins a select chamber group of Tafelmusik musicians to present the baroque recorder. Radiant, whimsical, melancholic, fun, bright—this is the nerdy recorder of your youth, but restored to its original glory.
Pyrotechnic concertos by Vivaldi and Telemann reveal the thrilling possibilities baroque composers explored in writing for the recorder, while Van Eyck's charming variations from his Garden of Delights are inspired by the bewitching song of the nightingale.
Pre-concert Chats
From Pleasure Garden to Pietà: Chamber Music of Vivaldi and Telemann Join us for a free pre-concert chat one hour before the show with soloist Alison Melville and Tafelmusik oboist Marco Cera.
Program
van Eyck The English Nightingale, for solo recorder
Vivaldi "Spring" from The Four Seasons (Elisa Citterio, violin soloist)
Telemann Concerto for recorder & bassoon in F Major, TWV 52:F1 (Alison Meville & Dominic Teresi, soloists)
Vivaldi Concerto for recorder, oboe, violin & bassoon in G Minor, RV 107
Telemann Quartet for recorder, oboe, violin & continuo in G Major, TWV 43:G6
Telemann Concerto for 3 violins in F Major, from Musique de table, Book II (Elisa Citterio, Julia Wedman & Cristina Zacharias, violin soloists)
Vivaldi Concerto for recorder in G Major, RV 443 (Alison Melville, soloist)
Tafelmusik Baroque Orchestra and Chamber Choir
DETAILS
Tafelmusik Baroque Orchestra and Chamber Choir
(416) 964-6337
427 Bloor Street West
Toronto ON M5S 1X7
Canada
DATE & TIME
-
[ Add to Calendar ]
2018-02-09 01:00:00
2018-02-11 20:30:00
A Recorder Romp
<p><strong>Explode your preconceptions of the recorder with this concert of delightful and daring concertos.</strong></p> <p>If you thought the recorder was just an instrument for school concerts, think again. Virtuoso performer <strong>Alison Melville</strong> joins a select chamber group of Tafelmusik musicians to present the baroque recorder. Radiant, whimsical, melancholic, fun, bright—this is the nerdy recorder of your youth, but restored to its original glory.</p>
427 Bloor Street West
Toronto ON M5S 1X7
Canada
Bloor St. Culture Corridor
info@perceptible.com
America/Toronto
public
TICKETS